There are many moving parts that need to come together to enable us to deliver a comprehensive wealth management service to our clients and so it is important to us that we keep our advice clear and as easy for clients to understand as possible.
The investment industry is notorious for trying to over complicate matters and we see it as our role to distil the available investment universe down to a straightforward selection of options that meet our clients' needs. We take the time to educate our clients as to the choices open to them so that they understand the reasoning behind our recommendations and are able to engage directly in the planning process.
Where do our strengths lie?
Unique combination of technical experience: our qualified financial advisers combine legal, accountancy, pensions and investment technical expertise, which is an unusual offering that enables us to deliver all-encompassing advice.
Tax specialism: we make excellent tax advice a cornerstone of our client service. Our experience tells us that sound and careful tax planning is a vital component of growing and preserving our clients' wealth. One of our financial advisers is a practicing chartered accountant and we are supported by the 10+ strong Ryecroft Glenton private client tax team.
Charities specialism: we have helped to set up personal charitable foundations for a number of our clients. Working with the Ryecroft Glenton charities team we are able to offer a full investment and accounting service that is compliant with Charities Commission requirements.
What can we do for you?
Investment advice: we make sure we understand your goals, your attitude to risk and your likely investment timeframe before recommending investment solutions to meet those needs. We review your circumstances on at least an annual basis and ensure that your investment strategy evolves to meet any changes in your requirements. We can offer clients a very broad range of different types of investment.
Trust specialism: we offer a complete investment, accountancy and tax service for our clients' discretionary trusts, in conjunction with Ryecroft Glenton's STEP (Society of Tax and Estate Planning) qualified trust tax specialists.
Co-ordinating clients' legal and accountancy requirements: we are unusual in having 'hands on' legal and accountancy experience, leaving us well placed to manage the input of a client's lawyer and accountant during inheritance tax and family trust planning exercises.
'One stop shop' family office: we have many years' expertise of advising high net worth clients on all aspects of their financial affairs, across multiple generations. Our long standing relationships are testament to our enforcement of a culture of utmost confidentiality.
Protection planning: if everyone were to adopt the mantra "prepare for the worst and hope for the best" then we would all have some form of life insurance in place. We help clients consider what scenarios they might need to protect against and come up with cost effective options that give them and their families peace of mind.
Retirement planning: we aim to make planning for retirement, and the management of clients' investments and pensions at retirement, as straightforward as possible. The key is planning well in advance, understanding the available options in the light of the prevailing tax regime and putting in place a plan that is simple to execute and capable of withstanding potentially volatile investment conditions.
Inheritance tax planning: Inheritance tax is to a large degree a voluntary tax paid by those who don't take action soon enough to mitigate their exposure and we encourage clients to start thinking about their options at an early stage. We work alongside Ryecroft Glenton's specialist tax advisers to put together a clear and comprehensive inheritance tax plan.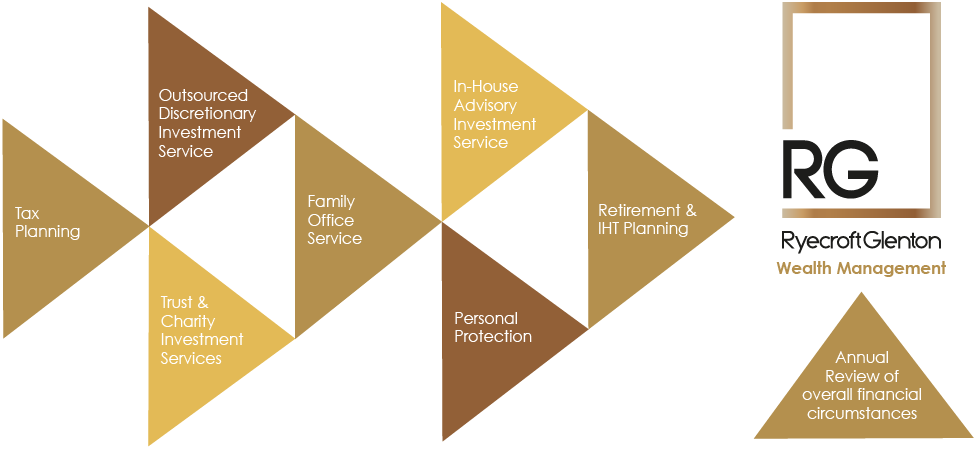 Portland Financial Management is a Newcastle based firm of financial advisers with a nationwide client base. We are fully independent which means that we provide personal recommendations by assessing a sufficiently diverse range of retail investment products, life insurance products, structured deposits and product providers available on the market to ensure that client's objectives are suitably met

Portland Financial Management is wholly owned by Ryecroft Glenton. Ryecroft Glenton, founded in 1901, is one of the largest independent firms of Chartered Accountants in the North East of England. Portland Financial Management's professional connection with Ryecroft Glenton allows each firm to work in tandem with one another to provide our clients with a fully integrated financial planning service.
We are ideally positioned to provide financial advice and specialist support in the areas of taxation, family wealth planning, business advisory and trustee services. Our on-going review service allows us to ensure that the financial strategies we propose and implement continue to meet your aims and objectives and remain suitable for your needs.
Portland Financial Management is directly authorised and regulated by the Financial Conduct Authority (FCA). Some of the products or services may not be regulated by the FCA. Registered in England, Registration Number: 1496459
29 Portland Terrace
Newcastle upon Tyne
NE2 1QS
T: 0191 281 6074
F: 0191 281 5396
E: email@pfm-uk.com
Parking: Parking: Ample parking is available at the front and to the rear of the office